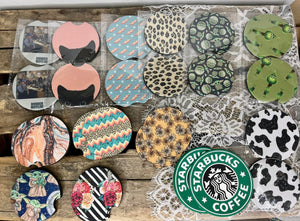 Dress up your car with these adorable car coasters! 
These absorbent coasters will keep your car coasters clean and dry. 
The cup holders are made of eco-friendly neoprene material that can withstand extreme temperatures,waterproof, quick drying. Keeps the cup holder clean and tidy. 
The Starbie cup holder is a larger size than the standard car cup colder. 

Choose which print you would like!