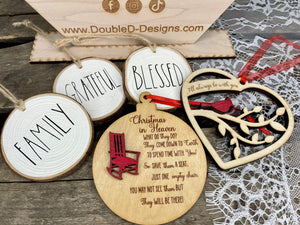 Spruce up your Christmas tree with these adorable ornaments! 

I am always here with you cardinal hanging ornament, cardinal and tree Christmas ornament, memorial ornament
Wooden red rocking chair Christmas ornament. 
Christmas in Heaven, what do they do? They come down to earth to spend it with you. So save them a seat, just one empty chair. You may not see them but they will be there.

Real wooden ornaments.
Choose your word:
Grateful
Family
Blessed
Each ornament is approximately 2.5 - 3 inches. Because they are made from natural wood, they might not be a perfect circle and each ornament will be unique.