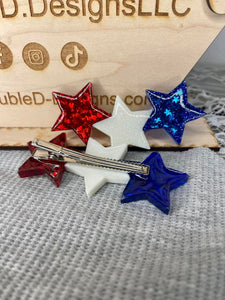 These red white and blue star shaped hair barrettes are so cute for celebrating America! They are secured on a long alligator clip which hold different textures of hair well.
Add this as an accessory to a pony tail, or clip your bangs back on the side.

Resin should not be exposed to high heat. This can result in bending, softening, and discoloration. If resin becomes soft put in a cool place to let it firm back up!
Due to the handmade nature of this product some color variation, and slight imperfections such as bubbles can be expected.